Silence. The Sound is Deafening. 
Today was totally weird. I have never experienced a day of nursing like this.
It was so strange not going into the rooms very often. Talking to every single one of my patients wearing a mask, goggles, gloves and a gown is awkward. It feels so…I don't know…robotic?
I just kept thinking of that experiment with the baby monkeys and the wire mom and the cloth mom. This psychologist named Harlow basically tortured baby rhesus monkeys but, what he discovered was really neat.
In short, the baby monkeys were given two 'moms'- one wire mom and one cloth mom. What he found is that the monkeys preferred the cloth mom even when the wire mom was the only one with food showing that 'contact comfort' is essential in development. That speaks volumes without saying a word. The monkey would rather starve to death just to have have physical touch and comfort.
          I wonder how my mask and protective gear makes my patients feel
They are sick and they are scared. The patients cannot have visitors (The hospital banned all people from the hospital that are not essential employees). On top of that, now they cannot be touched unless necessary. In a time when they most need a hug and a reassuring touch, we cannot give it without great risk. Nurses are supposed to be caring, empathetic people who actually touch their patients. It's just weird. The whole situation is sad.
Today we all had 4 patients each so the stress level was surprisingly pretty low among the nurses. In combination with the lack of people that are normally walking up and down the halls like, visitors, food services, housekeepers, physical therapy, speech therapy, imaging and maintenance personnel, and all the people that make up the hospital… they are all gone.
It's like a ghost town… Eerie
We have to re-use our PPE when ordinarily this would be a HUGE no-no. The world is in a shortage of hospital supplies and we must preserve what we have.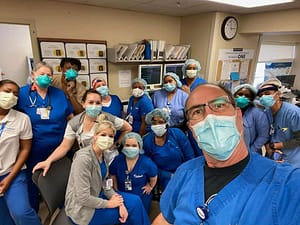 The doctors are being so nice to us now.
They weren't really rude or anything before but, everything was so rushed and quick. Now, they come to the unit and sit with us and ask us what we need from them. They answer our phone calls promptly. Everyone is working like a well-oiled machine and THAT is very uncommon in a hospital setting because things change so rapidly.
Now, all of our patients on the unit are the generally the same. They all have the same type of symptoms and the treatments are the generally the same. For example, none of these patients are getting IV fluids so, we are not constantly hearing IV pumps going off.
Yeah, that's another thing… It's Qui…- Wait! We never say this word in the hospital because it always brings chaos- Quiet. It is so freaking quiet.  Most of these patients are alert and oriented and therefore their bed alarms aren't going off because they don't need them. The IV pumps are silent because there are no fluids. There are no visitors asking a million questions. The noisy carts that are usually being wheeled up and down the hallway are gone. There aren't the chattering housekeepers in the halls and rooms. The maintenance men aren't pounding and banging. Physical and Occupational Therapists aren't walking the patients in the halls with the clangy walkers. Hospital volunteers aren't handing out magazines and crossword puzzles and coloring books and books and other things to the patients to keep them entertained. The animal services volunteers aren't walking the dogs in the halls to visit the patients. The priests are not giving communion unless called upon…. The hospital normally has so many sounds.
Sounds that irritate the shit out of us on a daily basis. Sounds that make the hospital a hospital.
It was so quiet
My charting was done before lunch. UN-Fucking-HEARD OF! Hell, I actually ate lunch for that matter! The whole day felt surreal. I was half-expecting leprechauns to come out and tell me I found the pot of gold. I would liken this day to a day at a telecommunications office that didn't receive or make any phone calls.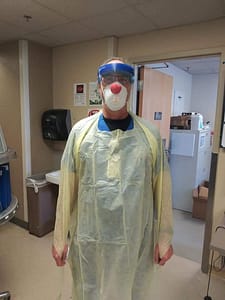 Is this how it's going to be for a while? Was it a fluke day? I guess we will see. Everything is so bonkers right now.
No sports, no going anywhere unless it's necessary, no restaurants, no unnecessary business open. The traffic is low, the planes are very few.
Usually, this campground we are staying at is fairly loud. We are right next to a four-lane highway, the main New Orleans airport, train tracks and the Mississippi river. Typically, every hour on the hour the train blows its horn approximately 7, 654 times (it's so annoying), planes are constantly landing and taking off, the boat's fog horns blow regularly and the cars driving by are loud with road noise and music and such. And now, it's almost silent.
Quote of the Day
"We need to find God, and he cannot be found in noise and restlessness. God is the friend of silence. See how nature — trees, flowers, grass — grows in silence; see the stars, the moon and the sun, how they move in silence. We need silence to be able to touch souls." – Mother Teresa
What's for Dinner?
Zuppa Toscana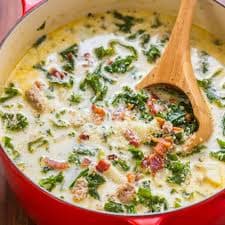 P.S. 
3.3 Million people filed for unemployment today which is a record. More people filed for unemployment today than they did in The Great Depression. Wow!
Jump to the next entry