Happy St. Patrick's Day! Wish Us Luck. 
Today, we were walking up to the employee entrance of the hospital and there were tables set up outside and nurses wearing PPE standing next to them. They were obviously going to take our temperatures and, it was strange to say the least. There was no explanation, they just walked up and put a 'No Touch' thermometer close to your forehead and read your results aloud.
Mine was 97.2° and Michael's was 97.9°. They placed green wristbands on us to let everyone know we were fever free. I assume the color green wristbands were for St. Patrick's Day.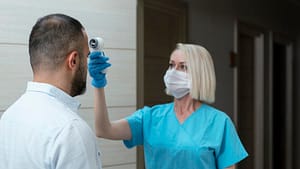 As I was walking inside I almost turned around to look at the long line of nurses waiting to have their temperatures checked. I decided not to. I didn't want see if anyone was turned away.
It would be too…I don't know…discouraging? Maybe that's the word I'm looking for discouraging.
Happy St. Patrick's Day… yay.
Typically, I like working holidays because they are fun work days. Staff usually has a potluck or we do something special for the patient's.
Hopefully the luck of the Irish is with us today.
Order in Chaos
We finally get to the 6th floor of our unit and the nurses station is buzzing with activity and nurses talking. During morning huddle, the charge nurse explains that the 7th floor is now dedicated to Covid positive patients and we will be moving the Covid rule out patients that remain on the 6th floor up to the seventh floor today.
Okay, I finally see a plan and we have some direction. I don't necessarily agree with the plan but, okay. There is finally some order in the chaos.
The hospital admins had mentioned this a few days ago but, we really didn't see it happening. The logistics of moving sick patients can be difficult. Apparently, something has changed and now things were going to start happening in a more fluid fashion. Good.
I get my assignment and see that I am assigned to the 7th floor (Of course I am). After receiving report from the night nurses, I start my day. I start to look at the patients charts and labs and, yada yada, as all nurses do.
And then it happens…
I read orders in the patients charts for the nurses to draw all labs and complete all respiratory treatments. Wait….What!?
No way. I'm not a phlebotomist and, I'm definitely not a respiratory therapist. I am not trained nor am I certified in those areas.
My head is roaring with questions and confusion.
I Need Clarification
This ridiculousness requires clarification so,  I call the charge nurse.
"Must be a mistake. We'll look into it." she says, and I go about my day.
About an hour later, I see the doctor who wrote the aforementioned orders talking on the phone and looking into one of my patient's room window.
Puzzled, I walk closer and I see he is obviously conversing with the patient via telephone while observing them through the window.
What the hell is this unprofessional shit?
So, I wait.
Essential Personnel Only
After he hangs up the phone, I inquire about the orders. The doctor told me this…
"Nurses are to all draw labs and complete all respiratory treatments to reduce employee contact with these patients. This comes from the Medical Director of the hospital. Oh! and also, housekeeping is not allowed in the rooms. Essential personnel only".
Okay, hold the fuck up. What? So, I have to be the nurse, the phlebotomist, the respiratory therapist and the housekeeper? Not gonna happen.
Next, I calmly ask him why he was talking to the patient through the window and, the doctor proceeds to tell me that this is the way they were directed to interact with the patients in order to reduce their exposure to the virus.
Happy Fucking St. Patrick's Day!
My jaw must have dropped wide open and my eyes must have been huge because he stepped back staring at me with a strange look on his face.
My anger was obvious to him.
I said, "Are you kidding me? You are the doctor. YOU ARE ESSENTIAL!  How are you completing your assessments through the window?"
His answer… "Verbal assessments".
Unbelievable.
I am dreaming right?
I am not here.
This is all an illusion.
A figment of my imagination.
Shenanigans.
Quote of the Day
May the road rise up to meet you.
And the wind always be at your back.
May the sun shine warm upon your face,
and rains fall soft upon your fields.
And until we meet again,
May God hold you in the palm of His hand.  -Unknown Author
What's for Dinner?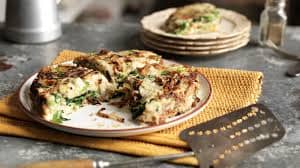 P.S. 
Ireland confirmed 69 new cases, the largest to date. 292 total confirmed cases and 2 deaths
Jump to the next entry