Suit Up and Show Up
… who said that? Well, basically the saying originated with Alcoholics Anonymous and the idea that wearing nice clothing to AA meetings would give the public a better perception of alcoholics. The saying comes to mind everyday I go to work and have to wear the PPE suits.
In the hospital policies and procedures are changing several times a day.
It's hard to keep up with what is expected. For example, each patient requires a full body assessment every 24 hours instead of every 12 hours. Charting is minimal at best. They call it 'disaster charting'.
There are now doors blocking the halls to the units when you get off the elevator. Before we can enter the door to the unit we have to 'suit up' in the donning station. The donning station is located in what used to be the family waiting room. There is always some random hospital employee sitting in there to guard the PPE because some asshole stole some the other day.
YUP!! Stole the fucking PPE. Some humans are an atrocious waste of oxygen.
Suit Up
Donning (putting on PPE) now means putting on a full body suit, shoe covers, gloves, a face visor and, an N95 mask. We have to wear this the entire time we are in the unit. We can wear surgical masks if we are in the nursing charting areas. Before we leave the unit we have to take it all of at a doffing station.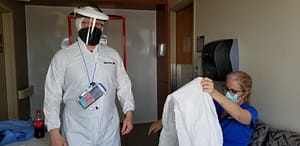 A red duct tape rectangle marks the doffing (taking off the PPE) station and it contains a chair to sit in and laundry hampers to put the used gear in. The hospital sends the suits out for cleaning and they are sent back to us to re-use. We put our masks in brown paper lunch sacks with our names on them and leave them in the unit for re-use on our next shift. We wipe down our face shields and goggles with bleach solution at the end of our shift for re-use by the oncoming nurses.
My face is breaking out in a rash where the mask sits and my ears and face are sore. I shouldn't complain. At least we have proper PPE…for now.
Show Up
I feel bad for the hospitals that don't have appropriate PPE. It's so sad to know that there are healthcare workers being totally exposed to this virus. There are several of the nurses here that are sick with Coronavirus. Some were hospitalized and others managed their symptoms from home. The ones who have recovered actually came back to work.  That is unrivaled bravery and they are superheroes in my eyes.
Quote of the Day
"I think a hero is an ordinary individual who finds strength to persevere and endure in spite of overwhelming obstacles." – Superman
What's for Dinner?
Drago's shrimp po-boys.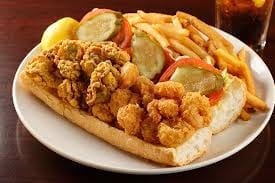 P.S.
The local restaurants are sending food to the hospital employees almost on a daily basis which is very nice of them. Their businesses are suffering terribly right now. They are trying to find random jobs for their employees to keep them on the books. The hospitality industry is big here in NOLA so, it's going to be important for us to support our local eateries and businesses after the quarantine ban ends.
Jump to the next entry