New Contract and New Beginnings
Carson City, Nevada
New Beginnings are always a welcome change in my life. Especially after everything we went through with the Coronavirus in New Orleans. I am excited to start our adventure here in Nevada. There are so many outdoor activities here like hiking, swimming holes, water falls, hot air balloons, biking on trails and the list goes on. This is going to be fun and I am looking forward to the new adventures.
The Hospital
As I mentioned in my previous post , we are currently on a travel nurse contract in Carson City , Nevada. The hospital has the most scenic views of mountains and absolutely beautiful sunrises. As far as hospitals go it undeniably has the best views I have ever seen from a hospital. When I leave in the morning, the mountains are casting shadows on each other from the sunrise and the air is crisp and cool. It is the highlight of my shift. Not only does that gorgeous sunrise mean my shift is over but, it's also makes for a nice ride home.
If you are a travel nurse and would like a great assignment, definitely come here.

Lake Tahoe
The day after we got here, we absolutely had to go see Lake Tahoe. If you've never been here, I highly recommend it as a destination to add to your list. You drive up and through the Sierra Nevada mountains to get there and the drive is visually breathtaking. Lake Tahoe is a very large alpine lake surrounded by majestic, snow capped mountains.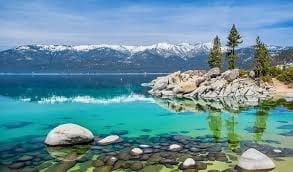 Lake Tahoe is truly an amazing experience. Warning…the water is cold! After you are in it for awhile it becomes bearable and you can enjoy the refreshing mountain water.
The beauty in this area of Nevada is very contrasting. In Carson City, it is quite hot with dry air and a brown mountainous landscape that has very little vegetation. But, once you start driving up into the mountains the landscape becomes green with lush vegetation and cooler temperatures. The contrasting landscape existing in the same area is actually quite strange.
Beautiful but, strange, much like New Beginnings.
Quote of the Day
"New beginnings are often disguised as painful endings." – Lao Tzu
What's for Dinner?
Peg's Glorified Ham n' Eggs in Carson City, Nevada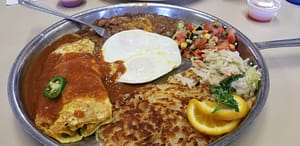 Jump to Next Post