One Million Reasons
Keep Fighting
Battle.
The word means to fight or struggle against. We are all fighting a battle to win the war against Covid. Every single one of us. Each of our battles are different but, we all want the same result. To resume life with as many victories as possible.
Battle.
My battle isn't the same as yours. You may have small children at home and you are probably ready to put them up for adoption at this point. Maybe you are learning to be a teacher in order to homeschool your kids. Or perhaps, you live alone and it seems like your walls are caving in on you. Possibly, you are old and you rely on others to bring you essentials along with the fear that the person helping you will actually kill you by way of exposure. Last but not least, you may have lost someone to the virus.
Battle.
The more we fight our urges to be social, and as long as we continue to think of the common good, we should be okay. Maybe we won't be the same but I believe we will be okay.
Battle.
A battle is a struggle that can be both physical and mental. Battles are usually associated with war and conflict. What about individual battles with mental health which is an internal conflict. I can only imagine that this whole situation is exacerbating any existing mental health issues. Not to mention creating new ones.
Battle.
We won't all win. I see it everyday. Death.
I lost a previous coworker to suicide today.
Battle.
I also see life and I choose to focus on what the future will hold for us instead of the death that surrounds us.
Battle.
The United States now has over ONE MILLION Coronavirus cases. More deaths related to Coronavirus have been reported in the past three months than were reported from the entire Vietnam War.
Battle.
Do I need a break? Yes. We all need a break from this but if we take a break now we LOSE.
Battle.
Just imagine how nice it is going to be to finally hug your kids and your mom and dad and all your friends. It's going to be such a relief and celebration.
This is why we battle.
We Will Win!!!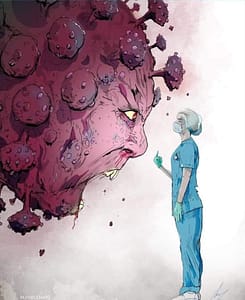 Quote of the Day
"You ask, what is our aim? I can answer in one word. It is victory, victory at all costs, victory in spite of all terror, victory, however long and hard the road may be; for without victory, there is no survival." – Winston Churchill
What's for Dinner?
Greek Gyro Salad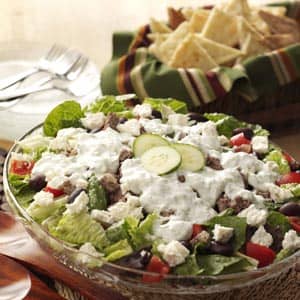 In less than three months, more Americans have died from coronavirus than the number of US service members killed in the Vietnam War, according to updated numbers from Johns Hopkins University on Tuesday afternoon.
Jump to the next post