Into the Unknown
There are two possibilities  when it comes to journeys. The first is a planned and prepared journey and the second is a journey that is completely unexpected.
As a traveler I find that you have to be highly adaptable to change and learn to 'go with the flow'. Otherwise your life will be miserable especially when it comes to unexpected journeys.
Covid Disappears
It's been a while since I've written but, things have been crazy.
First of all, at the beginning of May, the hospital kept calling us off of work. This came as no surprise since we kept seeing all of the social media posts about travel nursing crisis contracts for Covid getting cancelled. There were a lot of nurses who were contracted to work in New York and when they arrived they were told to go home and they are pissed!
We are speculating this is happening because hospitals are losing a lot of money due to elective surgeries being cancelled because of Covid. Surgery accounts for a large chunk of income to hospitals and right now they are going broke. But this is happening in a lot of states not just New York.
I am sure the nurses who have been busting their asses on Covid units were expecting relief from those travel nurses who got cancelled but, like I said before, hospitals only care about one thing- MONEY. And those tired nurses will have to work even harder now. It's bullshit they way nurses are treated.
Anyway, on May 5th the unit manager called us and said the MSU unit was being completely closed for a week in order to convert it to a, "clean unit". Essentially, this means that anything on the unit that cannot be sanitized has to be thrown away and the unit will return back to normal operation- as it was before Covid.
I guess Covid just fucking disappeared in New Orleans.
I'm confused but, whatever.  Since the unit is closed we are off for the next nine days. Hell yes!
Journey to Florida
I called a fellow co-worker on the unit, who is also a traveler, and asked her if she wanted to go to the beach in Florida for a few days. She was stuck in an apartment all by herself in NOLA and I figured she could use some salt water therapy. Of course, she said yes and we left for Pensacola Florida.
It was so nice. We went to Navarre Beach which is less crowded than Pensacola Beach because it isn't as touristy. There are no condos and big unsightly buildings. It is still fairly untouched and the sea turtles are revered there. It is my favorite beach other than Ft. Pickens and it did not disappoint.
God, it was so nice to just lay in the sand and soak up the sun. I think this is just what we needed to get out of our Covid funk. This shit has been stressful to say the least. And, on that note…
While we were at the beach, we were informed that our contract was shortened to May 30, 2020. Figures.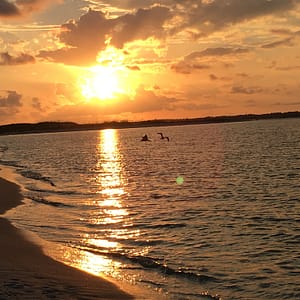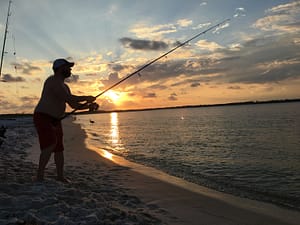 Reality Trip
It was so nice to have a week off of work and go fishing on the beach. I didn't even care if we caught any fish. I just needed some salt water therapy and to see my family. I've never been away from my kids this long and it is hard even though they are adults. I missed my mom and dad and it felt good to see and hug them all again.
For awhile I was scared I may never get to hug them again but thankfully I was wrong. I don't want to leave them again but eventually I will have to.
Reality is reality and we have to go back to New Orleans and work.
It was really strange walking onto the unit and not having walls up to block people from entering without proper PPE on. And, I felt really uneasy about that – no PPE. It's not like Covid just vanished. I finally got to the nurses station and saw everyone wearing normal scrubs and was told we are only required to wear a surgical mask while on the unit.
Hmmmm, weird.
Just last week were covered in head to toe PPE practically suffocating and sweating our asses off. And now we are required to only wear a surgical mask.
Did I miss something?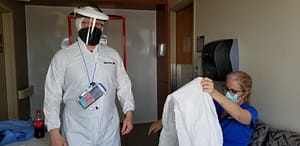 So, we have been a "clean unit" for about a week now and things are going okay. We are still wearing surgical masks but that's about it. We were told we are no longer accepting Covid patients but I have had a few patients with pending results.
It really pisses me off that they allow the pending patients on our unit. It puts everyone at risk. This whole Covid ordeal has been a total shit show.
Phase One
On May 15th the Louisiana governor, John Bel Edwards, opened the state to 'Phase One' of re-opening.
Finally!! I'm excited and scared at the same time. I'm excited that businesses can start to open and people can start earning money again but, I am also scared this will cause a second wave of the virus. Hopefully, it will not and everyone can move on with their lives.
Speaking of moving on…
Cancelled
Finally, On May 19th our recruiter called us and told us that the hospital has cancelled our contract… effective immediately.
Figures. Oh well, I was ready to leave New Orleans anyway. We are ready for a change.
To celebrate the end of our journey, we picked up some crawfish from Bobby's Seafood and boudin balls from Tres Bon. Seriously though, these two places have the best food and they are local.
We have absolutely no idea where we are going next but that's one of the exciting things about travel nursing.
Heading into the unknown.
Quote of the Day
"Celebrate endings – for they precede new beginnings." – Jonathan Lockwood Huie
What's for Dinner?
Jump to the next entry