Here Be Hope
Quote of the day
"Fairy tales are more than true: not because they tell us that dragons exist, but because they tell us that dragons can be beaten." – Neil Gaiman
What's for Dinner?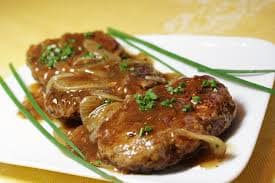 Hamburger patties with onions, gravy and a side of okra and tomato
Louisiana saw coronavirus infections in climb by 295 and deaths by 27 statewide, but none of those new deaths were located in Orleans Parish to mark a positive benchmark for one of the nation's biggest hotspots.
P.S.
Yesterday, Orleans Parish had NO new deaths from Coronavirus reported.
That is a step in the right direction. It made me smile and it gives me hope and a very tiny sense of victory. Our hard work is improving the numbers. Small victory but, we will take it. Hell yeah!
Jump to the next post