Reveille
Wake Up! It is time we wake up to the severity of this virus.
Yesterday, I had five patients and one of them was a suspected Covid patient and this pissed me off.
What the fuck?! Why was I given four non-Covid patients and one possible Covid patient?
That's not fair to my patients and it's not fair to my conscious. I am going to say something to administration about this at work and, in the future, I will refuse to take mixed Coronavirus patients.
This is stressing me out.
Reveille
According to the news, the country is running out of PPE for healthcare workers. What the hell are we gonna do if the healthcare workers get sick? We are fucked and all POTUS can say is, "We have this totally under control".  Why does he keep saying that?  We do NOT have it under control and we definitely do NOT know what we are fighting.
Levity
I woke up this morning and it dawned on me that today is St. Patrick's Day. This gave me hope that it will be a good day. I put the corned beef, cabbage, potatoes and carrots in the crockpot. Next, I made sure the Guinness was getting cold in the fridge. This is the perfect dinner for St. Patrick's Day. Ahhhh, levity.
Then, I realized… it's not St. Patrick's Day.
God damn it! My brain is so scattered.
Oh well, who cares. My family usually celebrates this day together and I love it. There's no stupid presents, pretenses or expectations just family, food and fun. St. Patrick's day is my favorite holiday. I even named my youngest son the middle name of Patrick.
Closed
Louisiana Shuts Down
On the news –the fucking news. It's everywhere.  TV, social media, in every conversation, and at WORK! I can't get away from it. The news is like a song that gets stuck in your head and makes you want to scream. Ugh…
The President and his medical staff made recommendations for social distancing, closing schools, restaurants and businesses to combat the spread of this virus. Shortly afterward, the Governor of Louisiana did just that. The Governor ordered schools, restaurants and the majority of businesses to be CLOSED- effective immediately.
I wonder how weird that would be? To be a police officer and walk into a casino or a bar or something and say, "By order of the governor, you must shut down!".
That would feel slightly apocalyptic don't ya think?
Quote of the Day
"Be safe for fuck's sake!" -Brandy Cannon
What's for Dinner?
Corned beef and cabbage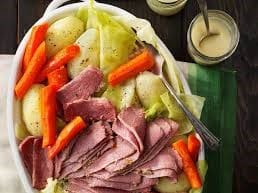 P.S.
I am not looking forward to work tomorrow. I have a feeling it will be nothing we expect or have experienced.
Jump to the next entry