Exploring Nevada while on our contract did not turn out as I expected due to the wildfires that occurred while we were there. Several fires broke out in California and Nevada during our stay and the smoke that resulted kept us indoors most days. It was unfortunate but what we did get to see was well worth our time there.
Wild Fire
Despite the smoke from the wildfires, that invaded California and Nevada the majority of the time we were there, we managed to get out and explore Nevada a few times on the days that were not too smoky outside. Most days the smoke was so bad you could barely see down the road and the mountains were practically invisible. It was something I have never experienced before and it really opened my eyes to just how terrible these fires are and the havoc they cause. It was really unfortunate that the fires kept us indoors most of the time but when we did get to go explore I discovered it was an area I would like to visit again.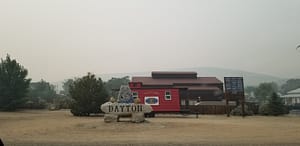 Kings Canyon Waterfall
On one of those non-smoky days we took the opportunity to explore and took a short hike to King's Canyon Waterfall in Carson City, Nevada. The hike was about 2 miles and it ended at a small waterfall. Given the time of year (July) the snow wasn't contributing to the waterfall as much as it would in the springtime but it was still worth the hike.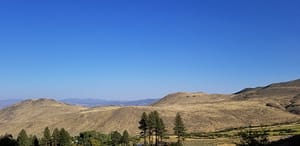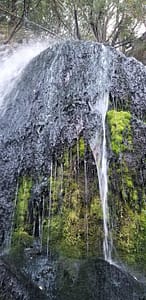 Lake Tahoe
We managed to visit Lake Tahoe one more time before we left the area for our next contract. We took the entire day to explore and made the drive around the entire lake stopping at various points of interest. Lake Tahoe truly is beautiful. You can see more about Lake Tahoe in this post.
Activities
Hot air balloons are very popular in the Carson City, Nevada area. Usually, there are several balloons soaring over the mountain tops in the mornings when we leave work. I wish I could have captured more photos of the balloons but the smoke kind of ruined that too. The area is also popular for flight, hiking, water and mountain activities and much more. Any outdoor enthusiast would love it here.
Food
We discovered a few good restaurants while we were there too. My favorite place was Squeeze In in Carson City, Nevada. The crab benedict was the best loaded with crab and packed with flavor. Next, was the Villa Basque Cafe where they serve a great mix of Basque and Latin foods. You can purchase home made Basque style chorizo, wines, cheeses and various other goods at the restaurant.
Wild Horses
And finally, one of the coolest parts of this area… WILD HORSES!! They are free to roam anywhere they please. It is very common to see them in people's yards, at places of business and running along the highway. They are beautiful.
Quote of the Day
Study nature, love nature, stay close to nature. It will never fail you. –Frank Lloyd Wright
What's For Dinner?
Wood fired pizza and beer at Aleworx in Lake Tahoe
P.S.
We have a new contract starting in November at Lake Havasu Arizona. I am hoping the area (and natural disasters) don't inhibit exploring for us there.
Jump to next post